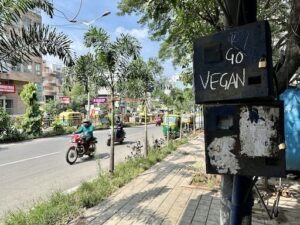 I'm back in India. I've been here since last Saturday, and will be leaving tomorrow, so it's a shorter trip than last time. This was very last-minute and I did not have much time to plan, so I didn't do anything exciting. Just work.
The trip out was long, as usual. I went through Singapore this time, and was able to get an upgrade to premium economy, although that doesn't get you much. I was in an aisle in the bulkhead row, which meant nobody reclining their seat in my face, but it also meant the TV was far away, and I had no place to put my bag. The flight was just shy of 16 hours. Then I had a super quick layover and caught a five-hour flight to India. I think I slept two or three hours on the Singapore leg, and maybe an hour going to India. That meant I left my house in an Uber at 7:40 AM Friday and checked into my hotel in Bangalore at just before midnight on Saturday.
I think this trip was less overwhelming than June's visit. I knew what to expect, had a vague idea of the terrain, and my schedule was packed with nothing but work. I got this hotel that's about 2km from work and maybe 1km from where we were having this off-site, so that was fine. I now know you can get from anywhere to anywhere in an Uber for like a dollar. And walking is fine, too.
Every day I would walk to work. Like I said, it's maybe a mile each way, but it takes about 45 minutes, and you have to follow a convoluted route with your head on a swivel. Traffic is bad, the random motorcycles are worse, and pedestrians have no right of way. And sidewalks can be somewhat random, or simply end in an open trench.
I tried to be somewhat zen about my walks, look for things I normally don't see, find things that give me joy. Here's a list of what I liked:
There are so many different types of buildings. It's not just a bunch of perfectly optimized 5-over-1 construction or a sea of ranch houses all built during the same housing boom. Some buildings have more than four sides, shoehorned into odd spaces. Some have very European lines, but some have arched windows or Jharokha windows or pyramidal roofs. Some houses look like they were built last year and some look a century old. It's amazing to see them all butted against each other.
Part of my walk twists through some narrow alleys going behind rows of five-story buildings. There are small slits of light where you see the sky, criss-crossed with random wires and cables from power and internet. I don't know why I like seeing that – it reminds me of parts of Berkeley or even Bloomington, where student buildings were randomly assembled next to each other.
Bangalore has so many trees. When I stay off the ring roads and take side streets, there are smaller streets that feel almost like they are going through a tunnel of green. Mountain ebony, Indian Elm, and cork trees line the city streets, with thick trunks jutting from the sidewalk. And there are amazing flowering trees. I'll be walking along a main road and see an Indian laburnum with bright yellow flowers or an African tulip tree dotted with red-orange petals.
I love the randomness. You can walk past an all-glass aerospace building, then there's an empty field with a cow eating grass in it, then there's a retina surgery center, then there's a shop rebuilding motorcycle engines in the street. It makes it hard to just like go to the suburb with all the grocery stores or fast food places. Everything is everywhere.
People draw chalk mandalas on the sidewalks in front of their house. I know nothing about the ritual or significance, but there's something I like about it. I like spotting them as I walk through alleys and streets.
There was one night I was walking home from the off-site to the hotel through the EGL tech park. This was after spending all day in the air conditioning, and it was dark out, and the air was dropping from 90 to 70 degrees rapidly, and it gave me the strangest sense memory of the summer nights back in Bloomington in 1992, of walking in the cool darkness to the fountain at midnight after a day of triple-digit temperatures. I'm thirty years and half a world away, and absolutely everything is different. But I still felt that feeling for a minute, and it was amazing.
Anyway. Done with work. Leaving India tomorrow morning and taking a quick vacation for four nights over here. More updates on that soon.