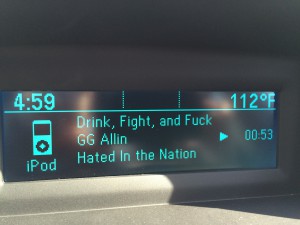 I planned on blogging more from KonCon in Las Vegas last week, but I didn't, because I am lazy. I probably should write a synopsis of the trip, but the TL;DR is that it was way too fucking hot – usually at or above 110 each day, and even hours after the sun set, it was still above 100. So that's why it's so cheap to go in July.
Someone asked me for some advice on Vegas while I was gone. I have not spent much time there in years, and everything I mentioned in my book about Vegas is largely gone. But my response to this question in an email is an interesting companion to the trip itself and my thoughts during it, so I'll just leave this here for your amusement.
I waste a lot of time on this site when I am planning: http://www.lvrevealed.com/deathwatch/ – their casino reviews are decent, but I am sort of obsessed with who is rumored to get imploded in the near future.
If you look at a map of the strip, most of the mid-strip properties are what I'd consider first tier (Bellagio, Paris, Harrah's, Caesars, etc), and the Wynn is north strip, but I'd group it in with those mid-strip properties. Same with Aria/City Center, which is technically south strip. It's the newest; I've never stayed there, but from eating/shopping there, it's pretty high end.
The south strip was the big deal maybe 10-15 years ago, and that stuff is now dated, but can be tolerable to stay there. It can be cheap, and the location is decent. So Mandalay Bay, MGM, NYNY, Luxor, Excalibur in that order. (Most of those are owned/run by the same monopoly, so they're similar.) Tropicana got bought by Hilton and redone, so the rooms are nice, but there's not a lot in there.An example: the Luxor is not that trendy of a property – I think it was so-so when I stayed there in like 99, and now it's really lost its focus. It used to be Egyptian-themed, and they decided that maybe flyover rednecks aren't into that, so they started de-theming it and ripping out the king tut stuff, but it's still got these random stone pyramid walls in places.  But, the rooms are now ridiculously cheap, and it's a really good location, and connected to the big mall by Mandalay Bay. So if you don't plan on spending a lot of time in your room, it could be an option.
Everything north strip is shit. Everything downtown is total shit. Everything that's not on the strip is mostly shit, unless you stumble on some deal to stay in a timeshare at Trump or something weird like that.
Absolutely do not stay at Hooters like I did.  I won't go into the horror stories, but I've stayed at hotels in rural Mexico that were much nicer.
I used to never rent a car and cab it from the airport and around town. But the last few times, I've found an okay deal on a rental car bundled with the hotel (I think I used Expedia this time) and if you drive at least once a day, it's usually a better deal. You can generally park at any hotel for free, or valet for almost nothing.
If you are driving, don't actually drive on the strip to get north/south. Either go west to I-15, or go east to Paradise, Maryland, or Eastern.
Think of whatever amount of water a person would drink in a day that would be entirely excessive, and double that.
You can drive off the strip and buy a case of water for four bucks or whatever, or you can buy two bottles of water at a hotel for seven bucks. The problem is almost none of the hotels have a fridge. You can buy a crappy foam cooler at the grocery store and then commit to filling it with ice every other hour, but that's a huge pain in the ass.
Opentable is a good way to get reservations for dinner.  There's a surprisingly large number of high-end restaurants with decent food.
Every buffet is a ripoff. Wynn is almost tolerable, if you pace yourself and don't eat all day and go in with the plan of fucking them by eating five pounds of lobster. But I made the mistake of going to the MGM buffet, and paid $35 for about $10 of Sizzler-grade food.
If you're into steak, Tom Colicchio's Craftsteak at the MGM has a fairly insane three-course beef selection that is not cheap but is awesome. Or in the opposite direction, there's the Golden Steer, which looks a little dodgy because it's ancient and has never been remodeled, but it's cool because it's ancient and has never been remodeled – it's one of those old-school places where the brat pack used to hang out.
Everyone associates the Grand Canyon with Vegas, but really it's like a 4-5 hour drive each way, and easy to kill an entire day to spend a few minutes there.
If you are actually interested in going to Area 51/Rachel I could fill up another post with details on that.
If you are there and hit the wall and need to bug out and go somewhere quiet to get work done or whatever, go to UNLV. You can hide in their library and use wifi without any hassle.
There's a huge Fry's Electronics south of the strip, at a big outdoor mall right before 215. There's a Target at Flamingo and Maryland. There's a few Vons grocery stores (Safeway-owned, I think) on Tropicana and Flamingo.
Pinball Hall of Fame on Tropicana is worth checking out. The atomic testing museum on Flamingo is neat, but their Area 51 exhibit is pretty cheesy.
If you want to tour the neon graveyard, book it early.  They have limited tours and they always fill up.
Don't stay at Hooters.
Thoughts?  Leave 'em in the comments.