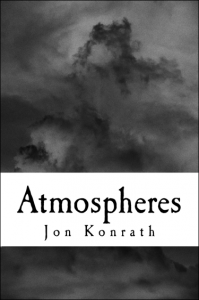 I'm proud to announce the audio book for Atmospheres is now available!
This is huge. You really need to go listen to a sample of the book.  It was narrated by Rob Shamblin at Bay Drive Sound Studios, and they did a totally pro job – it sounds incredible, and the acting and pace of Rob's reading is incredible.
The book itself is a total gonzo drive into the absurd. I'm very proud of the print book, but the audio version takes on a completely new dimension. It's really something to listen to it, and the nonlinear structure of the book lends itself well to audio. And it's unabridged, so it's just shy of six hours long, which is a great value.
So here's the deal: you can get it in one of three ways: Amazon, Audible, or iTunes.  Here's some explanation of all three:
Audible: http://www.audible.com/pd/Sci-Fi-Fantasy/Atmospheres-Audiobook/B00OD60TPS – You can buy a copy of the book outright from Audible for the list price of $19.95. Or, you can sign up for an Audible account and get the book for free.  Audible gives you a 30-day free trial, and then it's $14.95 a month. Members get two free audio books a month, plus 30% off additional purchases.  This is a hell of a deal, and I'd recommend it if you regularly listen to audio books.  Just make sure the first book you download is mine!
Amazon: http://www.amazon.com/Atmospheres/dp/B00OI2HAJU Audible is owned by Amazon now, so tomato tomatoh.  The key difference is that it's currently $17.46. And when you leave a review (you are going to do that, right?) it shows up along with all of your other Amazon reviews.  I think you need to download some kind of Audible app to get the audio from Amazon – I don't know what their procedure is this week for audio purchases.
iTunes: https://itunes.apple.com/us/audiobook/atmospheres-unabridged/id929829736 If you are locked into Apple's ecosystem, this is the way to go. It's currently priced at $17.95 too, so you save two bucks there. And if you like having all of your stuff in iTunes and don't want to download another program and want it all from Apple's cloud, this is the way to go.  I just bought a copy from here to see how it went, and it's just as seamless as buying anything else.
You can listen to a short preview on any of the above sites.  Apple's preview is shorter, but a different part of the book.
Here is the big favor part: I do not have any free download codes or other way to easily schlep copies of this book to potential reviewers.  So I really, really need help getting reviews of the book, and getting the word out to people. Please forward this on, repost it, tell others, and review the book if you can. It would be greatly appreciated!
Also, if you're still interested in reviewing the paper book (or ebook) drop me a line at jkonrath at rumored dot com and I'll hook you up.  I really, really need some honest Amazon reviews, so get in touch if you can help.
I am really glad this project turned out as good as it did.  I hope you get a chance to check it out!