Rumored to Exist
a novel
by Jon Konrath
About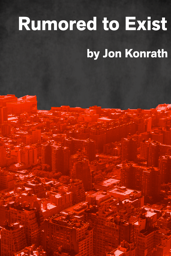 Rumored to Exist is a collection of 201 vignettes or flash fiction pieces, loosely tied together into a non-linear narrative about a protagonist attempting to find meaning in a bizarre near-future world. It's a densely packed stew of ideas flashed together, morphing between dreams, emails, conversations, and action. It's a novel in the style of Naked Lunch, written for today's short-attention-span hypertextual world.
Influenced heavily by Burroughs, Mark Leyner, Raymond Federman, and Hunter S. Thompson, Jon Konrath knit together the dense patchwork of fiction over a seven-year period in a half-dozen cities across the US.
Key Capitalized Phrases
When Amazon.com scans in books for their "Inside This Book" feature, they calculate a number of phrases with capitalized words, called CAPs, which usually indicate people, places, events, or important topics. They claim that this provides a quick glimpse into a book's contents.
Here are Amazon's CAPs for Rumored to Exist: New York, New Jersey, Taco Bell, Burger King, Fat Chris, Puerto Rican, New Mexico, Star Trek, Pamela Anderson, American Express, Darth Vader, Van Halen, Jimi Hendrix, Mello Yello, Inverted Bitch Fister, Santa Claus, Moons Over My Hammy, Rat Man, Death Star, Blade Runner, James Bond, Star Wars, Marilyn Manson, Niagara Falls, Jack Daniels.
Editions
There are three editions of Rumored to Exist, with the first two now out of print. The original edition was first published in 2002, from iUniverse. An annotated edition was available from Lulu, and included minor corrections and footnotes detailing and explaining many of the concepts and ideas in the book. The third edition, first available in 2011, is essentially the 2002 edition with some minor corrections and revisions.
About Jon Konrath
Jon Konrath self-published his first book, Summer Rain, in 2000. He has published five books, and was the editor and publisher of the literary journal Air in the Paragraph Line for 13 issues. He can be found at rumored.com.
Return to Homepage