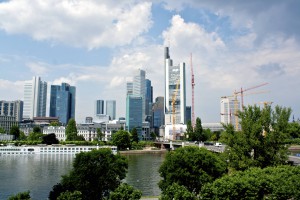 OK, I'm back.
Went to bed at 8:00, Oakland time, and woke back up at 2:00, unable to sleep, so here I am, digging through the piles of trash from my luggage, trying to return the gadgets to their daily configuration so I can get back to The World by Monday.
The flight back yesterday was decent but long.  We boarded at about 1:00 Frankfurt time, and I had a "business economy" seat, which is slightly bigger than a coach seat, but still in a 3-wide row, with no special plugs or media viewers or amenities, beyond the meal that almost looked like chicken, and a dollar's worth of Cokes.
Frankfurt was good.  It's a weird city, trying to hold onto the past, while also trying to radically build itself into a Zurich-esque financial center, which in some senses it is.  I was struggling to name a sister city in the US with the same kind of feel and dilemma, and the best example I could think of is Charlotte, North Carolina, which is the second-largest banking center in the US, with rows of shiny chrome buildings downtown, and then sixteen blocks later is failed tobacco farms and abject poverty.  I don't know what it's like outside of Frankfurt, but I do know they have struggled over the years with their identity and people have pushed back against the image of "Mainhatten," but the skyscrapers make it an interesting contrast to a lot of other European cities.
I'm not really in the mood for travel writing at 4:37 AM, so I'll plow through a quick list of highlights:
Our hotel was decent but horrible.  I think it was designed by the people who engineer prisons to drive people insane.  Features included a single shower with all glass sides in the middle of the room, with water controls designed by Erno Rubik; a bowl sing that rang like a Tibetan gong when you looked at it wrong; a bathroom light you could only turn on from the outside, which results in blinding your partner during every nocturnal visit; an extensive "pillow menu" but the room only included a single pillow per person that wasn't much more than a thick towel; etc etc etc.  It wasn't a dump, but it tried too much to be quirky and modern, and it needed someone to QA it.
The German Museum of Architecture was my favorite, and the exhibit on postmodern architecture and Heinrich Klotz helped give me a lot of context on the city.
The Museum of Modern Art had an interesting exhibition on African artists which was themed on Dante's Inferno, with three floors for heaven, purgatory, and hell. Unfortunately, it didn't have any of the permanent collection out, and is supposed to have a second facility opening with that stuff out, but not until the fall.
The Museum for Communication is sort of a postal museum, and is a good place to see old telegraphs, radios, TVs, and mail equipment. I was hoping for more early computer stuff, like a West German VAX or something; I think my obsolete computer collection has more stuff in it.  Also there was a thing about the Bildschirmtext system, which was an early BBS-like system run by the post office on specialized hardware.  They had a couple of terminals, but no English text explaining it.  (google it for a deep k-hole, though.)
The Schirn had an art exhibit based on Infinite Jest.  It was… interesting.  It was more or less curated around ideas about the book, and was very meta and didn't really have to do with the book, but did.  Or didn't.  I need to learn more about art.
I ate a lot of asparagus for some reason.  Lots of sausage, too.  I am glad to be back on a regular diet.  It will be nice to get back to a regular sleep schedule, too.
I have a thousand pictures to sort through.  I'll get to it.  First, back to writing.