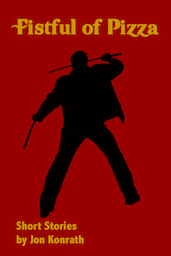 My book Fistful of Pizza is free on the Kindle this weekend!
Before I even explain anything, go here and download this thing immediately at Amazon.com.
Okay, here's the deal.  Fistful of Pizza is a short story collection of nine different pieces of bizarro, absurdist goodness. It's a print book, in a fun little pocket size, but it's on the Kindle, too.  Don't take my word for it though; read this excellent review from my pals over at Metal Curse.
Normally, the book is only 99 cents on the kindle.  But for the next five days (4/13/12 to 4/17/12) it is FREE.  And not just if you own a physical kindle, and not for some one month borrowing period.  I mean, anyone with an Amazon account can buy it for zero dollars, and you can then download it to any kindle or kindle program, or read it online forever.
Why am I doing this? A couple of reasons:
As a thank you to all of you who have read my other stuff.
As an intro to those of you who haven't read any of my stuff yet.
Because I really, really want to get the book's rankings up, and every download helps.
I need your help!  Please download the book.  But also, please tell your friends or anyone you know who has a kindle or likes weird and twisted humor to check out the book.  Post this on your facebook or twitter or mail it to a friend or do whatever you can to spread the word on this!
A brief FAQ:
Do I need a Kindle to read this?
NO.  The kindle software is available for just about every phone, tablet, or PC out there.  If you happen to be on an Amiga or web browsing on a VAX or something, you can also use Amazon's cloud reader and read it in your web browser.
Do I need Amazon Prime to read this?
NO.  Anyone with an Amazon account can read it.
I'm one of those people who hates ebooks and only reads paper books.  What the hell?
There is a paper version of the book available.  It is excellent.  Unfortunately, it isn't free.  Dead trees cost money.  Tell you what – if you buy the paper version and ever run into me, I'll buy you a beverage of your choice.
I'm taking a music theory class. How can I memorize the circle of fifths?
Freaky Chicks Go Down After Every Beer.
What else can I do to help?
Aside from downloading a copy and telling all your friends, if you like the book, please rate it and review it.  And please tag it on Amazon, if you're into that sort of thing.
Okay, here's the linkage:
The book on Amazon:
http://www.amazon.com/Fistful-of-Pizza-ebook/dp/B0055LH4ZI
The book's home page:
http://www.rumored.com/fistfulofpizza/
At goodreads:
http://www.goodreads.com/book/show/12391442-fistful-of-pizza
Thank you in advance!  I hope you get a chance to check out the book.