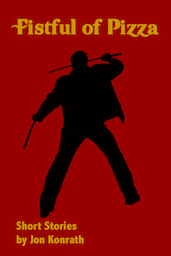 I hope all of you had a happy Firestorm, or whatever religious holiday you celebrate this week.  I'm currently reporting from the city where Jeff Dahmer did all of his work twenty years ago, the land of cheap beer and plenty of cheese.  I spent almost a week in what's left of the land where I grew up, which is now overrun by meth labs and dollar stores.  While it was good to see some people from the past, it will be nice to be back in my own bed tomorrow night.
Speaking of the hell that is Indiana, I spent some time with long-time buddy and editor of Metal Curse zine, Ray Miller.  There's a new review of my book Fistful of Pizza up there today: http://metalcurse.com/index.php/reviews/jon_konrath_-_fistful_of_pizza/. If you got a brand-new kindle for the holidays (or an iPhone or iPad or iPod or whatever else can read Kindle books) and you've got 99 cents burning a hole in your pocket, go check out the book.
There's a new Kindle Fire in the family, and although it is not mine, it looks like a neat toy.  Personally, I will be hauling about ten pounds of dead wood through the airports, and seeing how much of that Steve Jobs bio I can burn through while waiting for flights and trying to avoid airborne contagions.  Good stuff.